Exhaust Gas Boiler (EGB)
Brand :
| | |
| --- | --- |
| Capacity | 250 – 5000 kW |
| Country Of Origin | Sweden Manufacture in China |
| Delivery | 90 Days |
Description
The Aalborg Micro is a compact exhaust gas heat exchanger especially designed for waste heat recovery from small gas turbines as well as from small engines & clean process flue gas. Furthermore, it is also unique when used as an economizer/ condensing economizer e.g. for gas or diesel fired boilers.
Applications
The Aalborg Micro can operate with a diversity of media, including water, steam, triethylene glycol (TEG) and thermal fluid oil (TFO). To date, Alfa Laval Aalborg Micro heat exchangers have been used in different applications across a wide range of industries.
Design
The Aalborg Micro is build in a durable design featuring aheating surface consisting of a number of coaxial tubes arranged in a vertical or horizontal cylindrical shell plate. This, ensures a long-term, trouble-free performance and offers capacities ranging from approximately 250-5000 kW.
The heating surface of the Aalborg Micro has been developed for easy maintenance. Cleaning can be performed either with a pyrolysis process when operating in dry-run mode or using optional soot blower rings with compressed air, steam or water.
When necessary, an integrated regulation damper allows a part of the exhaust gas to bypass the unit's heating surface.
Geometry
| | |
| --- | --- |
| Weight (incl. insulation) | 400 kg to 3900 kg |
| Diameter (incl. insulation) | 950 to 1870 mm |
| Height (incl. insulation) | 1700 to 2800 mm |
| Media inlet/outlet header | DN100 |
| Exhaust inlet/outlet header | DN450 to DN1000 |
| Insulation | 150 mm |
Technical data
| | |
| --- | --- |
| Capacity | 250 – 5000 kW |
| Maximum inlet temperature | 600 °C (dry-run 530 °C) |
| Minimum outlet temperature | Dependent on engine fuel and exhaust gas composition |
| Pressure loss | According to customer requirement |
Media side – Aalborg Micro as heat exchanger
| | |
| --- | --- |
| Through the tubes | Water/TEG/TFO |
| Quantity | Max. 160000 kg/h |
| Maximum pressure | 39 bar(g) |
| Maximum media temperature | 365°C |
Media side – Aalborg Micro as steam generator
| | |
| --- | --- |
| Through the tubes | Water/steam |
| Quantity | Approx. 4000 kg/h |
| Maximum pressure | 39 bar(g) |
| Standard norm (Industrial) | PED + GB + ASME |
| Class (Marine) | DNV/GL/ABS/Lloyds etc |
Images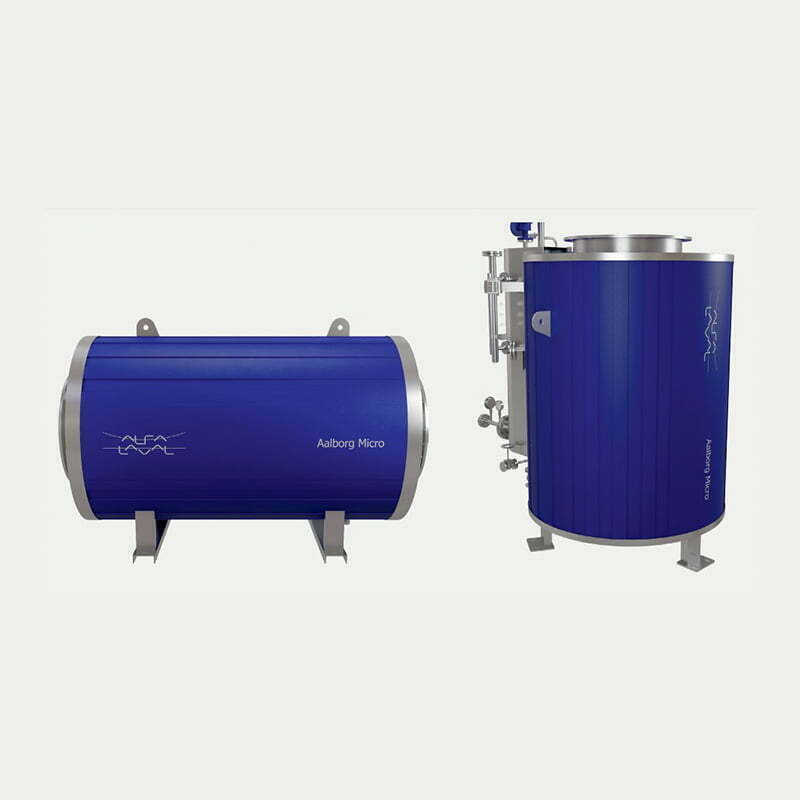 Reviews (0)
Vendor Info
More Products
Product Enquiry