Timing Belt-optibelt OMEGA 2800-14M-85
Brand :
Model
optibelt OMEGA 2800-14M-85
Country of Origin
Germany
Description
Technical Specification
Tooth Profile: 14M (According to ISO 13050)
Tooth Profile
14M
t (mm)
H s (mm)
H t
(mm)
14.00
9.50 ±
0.25
5.60
Material & Belt Characteristics
Rubber Compound
The material is made from a newly developed
polychloroprene rubber (CR) compound reinforced with a particularly high
aramid fibres content.
Teeth Fabric
Reinforced polyamide fabric
Tension Cord
High strength Glass cord
Hardness
89 ± 5 Shore A
Anti-static Properties
Yes according to ISO 9563
Efficiency
98%
Oil Resistance
Limited oil resistance
Noise Emission
Lower running noise due to optimised tooth shape
Pulley Profile
HTD and RPP according to ISO 13050
Temperature Resistance
– 30 o C to + 100 o C
Minimum Pulley Diameter
124.78 mm (No. of teeth 28)
Minimum Diameter of Backside Idler
130.00 mm
Operational Life
up to 2.5 times of standard belt
Maintenance-free:
Re-tensioning of belt is not required. Fit & forget.
Recommended Applications
Suitable for high power and high speed drives with moderate shock load
Drive re-design for higher efficiency, longer service life and reliability
application
Excellent performance for textile machines, machine tools,
compressors, printing machines, wood processing machines and
paper machines etc.

Images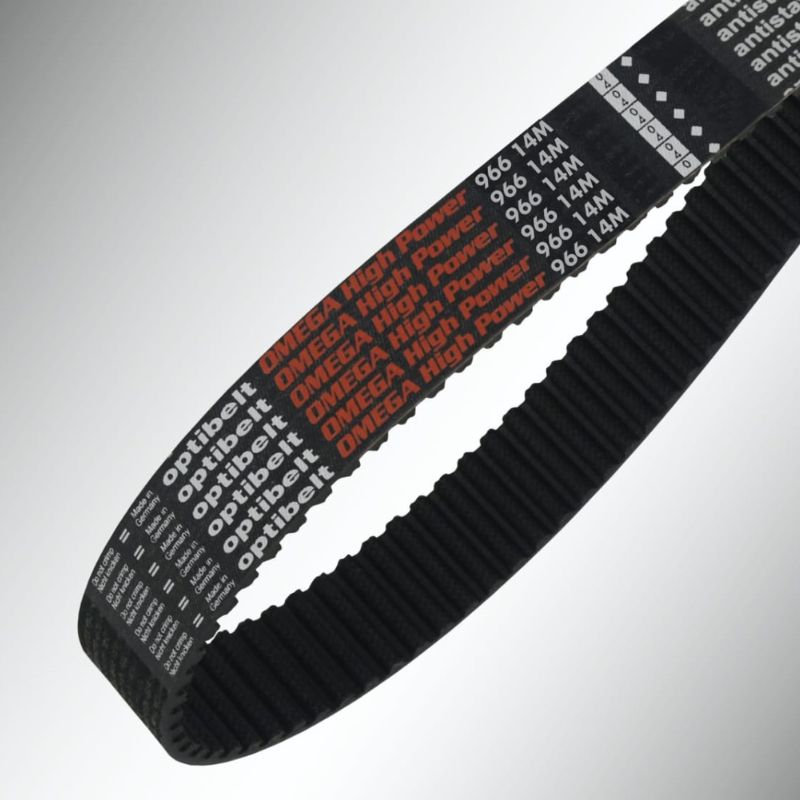 Reviews (0)
Vendor Info
Vendor Information
Store Name:

Eparts Mart-Industrial Belt Store

No ratings found yet!
More Products
Product Enquiry